A guest post from Opa V!
I have had a pocket knife collection/obsession ever since I was a little boy.  It's a well-known fact for those that know and love me.   Knives and Flashlights.  🙂
My family traveled and camped every summer and as my dad really loved the mountains, westward we would go!   On one of our overnight stops at Neys Provincial Park, we walked down to the beach to see the creative submissions of the sandcastle competition.   As we walked, I noticed something shiny, so I stopped to dig it up.  I could NOT believe what I had found!   A Buck 3 blade pocket knife.  The knife every young boy was after!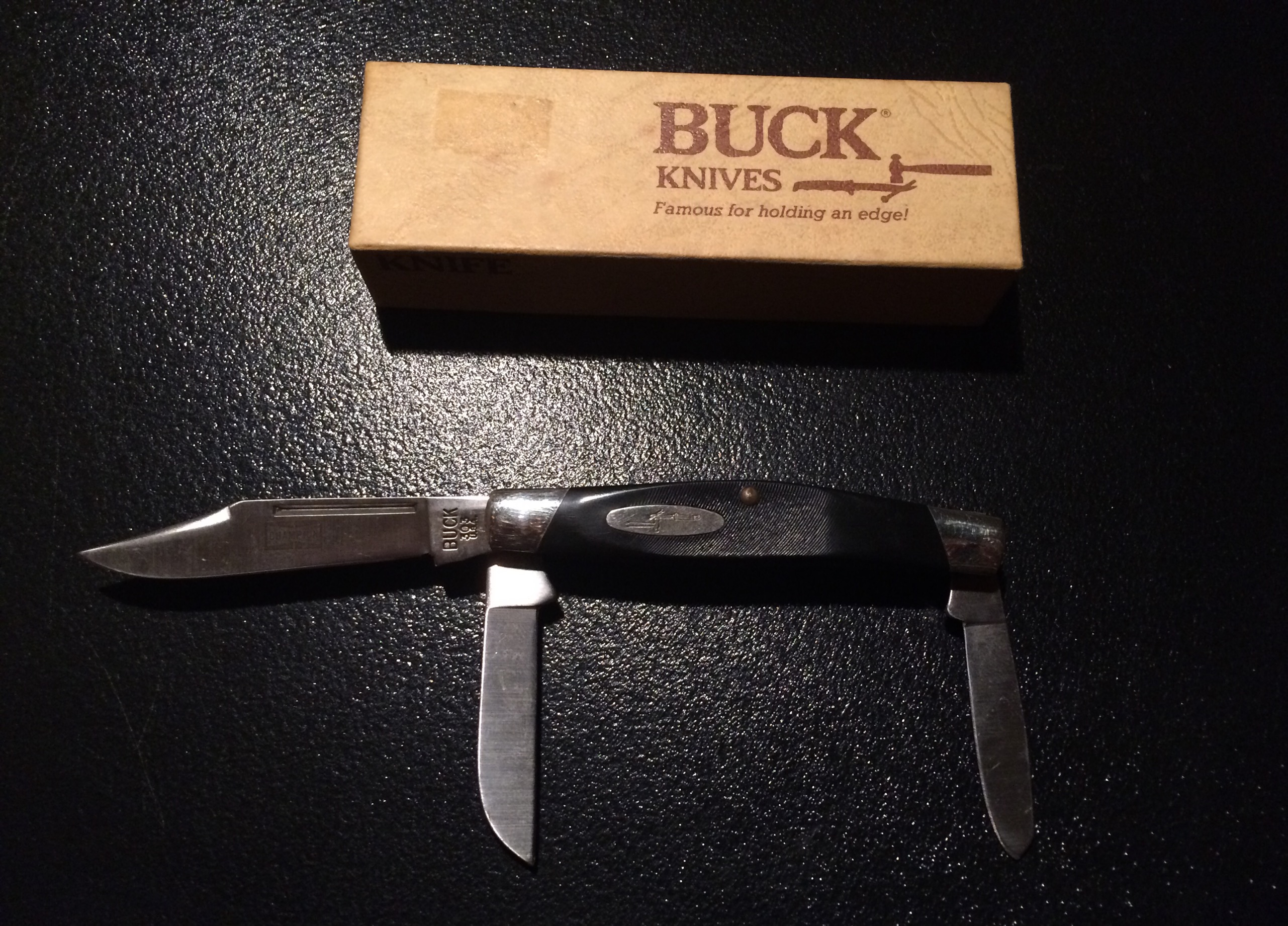 I was initially very afraid dad wouldn't let me keep it but he did and my obsession was born!   Many a marshmallow stick was carved with that knife along with many (unsuccessful) attempts at whittling a masterpiece that I imagined in my young mind.
My dad, a master carpenter, taught me everything I needed to know about soft wood versus hard wood and to NEVER cut towards myself.   Then came the sharpening lessons on his well-worn whet stone. "Give it a good amount of spit and turn the blade until razor sharp".   It never left my pocket.   Until.   I lost it on one of my many adventures.   I searched high and low but it was not to be.  I was devasted.
Fast forward 35 years.   After anxiously awaiting news of the online auction for this little gem, it was mine.   Canada Post delivered it today, all the way from Tennessee.   The unboxing of the same vintage knife I held many years ago, was more emotional than I was prepared for.   The box was pristine, the paperwork intact, the knife wrapped carefully in paper, not a scratch to be found.    The note from the chairman of the board from mid-1970's along with the knife care instructions was incredible to read.
Having it back in my pocket where it belongs is completely overwhelming but let's face it, it wasn't really ever about the knife at all.  🙂
I expect there will be some whittling around a family campfire in the very near future along with a bright-eyed little grandson asking…."Opa what is that supposed to be?"
Let me tell you a story Noah….
Opa
To learn more:  http://www.buckknives.com/about/the-people-behind-buck/