Yup.   I said it.   A junk drawer.
The top cupboard would make any dutch Oma happy.  Slippers!  For everyone that comes to visit.
The second basket currently holds the little space heater and an extra box of kleenex and another reusable shopping bag.   Weird right?    It's the drawer that things go to be sorted out.   I expect if i take this picture again in the fall it will look completely different.   I'll let you know.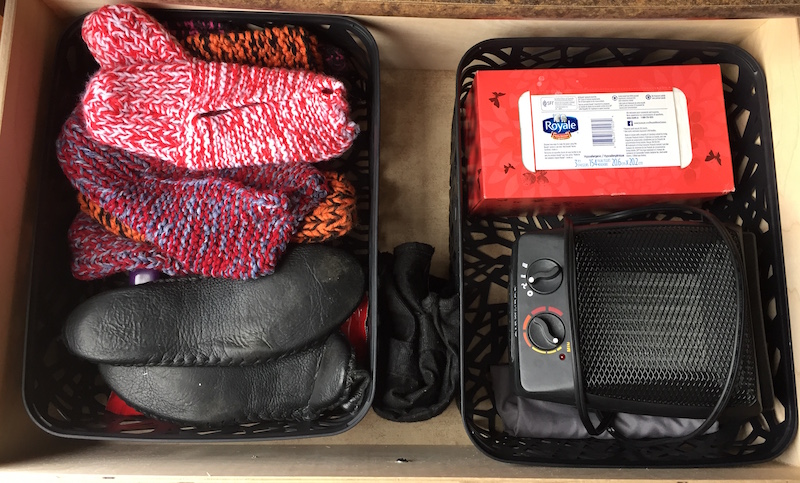 The bottom draw holds the "gadgets".
We purchased LED ribbon lights that have a remote.  🙂   We clip them to the awning with little badge holders.   You know the ones that you see at conferences with name tags.    Works like a charm.  The lights are very…well, light and don't need much to hold them up.
Also included:
Wind up weather radio
Bullseye level
Multitool
Dot light
Select a bit screwdriver
Pocket knife
Duct tape
With this basket of goodies, Ron can do ANYTHING!  🙂    He's handy….and might I say…handsome to boot!
The second basket is full of puppy love.   Her towel, retractable leash, poop bags, tennis balls, her throw stick, her brush and some treats.    Her food is stored in a sealed container in a drawer located under the bench seats in the kitchen.
Towel
Retractable leash
Poop and scoop bags
Tennis balls and throwing stick
Brush
Treats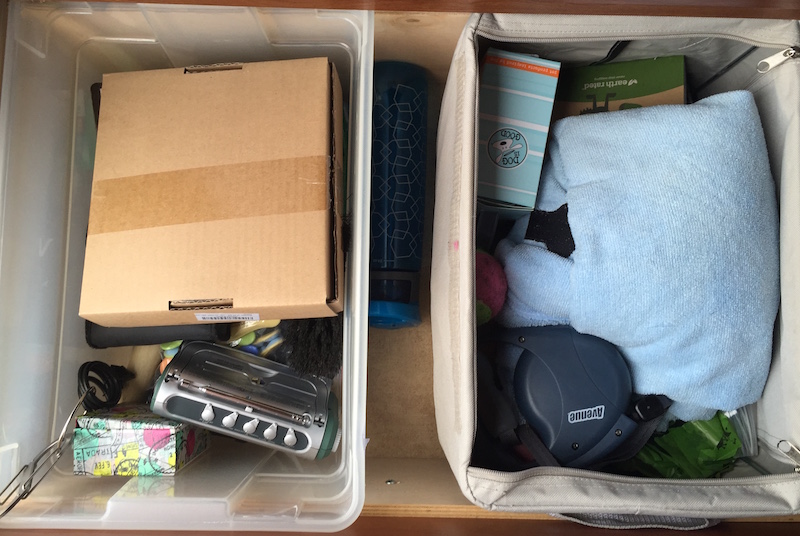 Happy packing and safe travels!
Love always,