I'm a list maker extroidinaire.
A planner of events and gatherings.
An organizer, cleaner and straightener.
Completely incurable.
Make no mistake!!!  I don't live my life with military precision and my house is not showroom ready at a moments notice.  If the Queen arrives unexpectedly I might fret for a moment, but I'd get over it and welcome her in.  
Yesterday, I talked about keeping the "junk" in the trunk.    As you can imagine with a new season upon us, and before I could put the donation box neatly into the corner of my trunk, I had to tidy up a little.   I was happy to put my snow brush a bit closer to the trunk exit, move the reusable grocery bags over and review what was in my winter car kit that I gladly didn't need once.     
I pulled everything out and repacked it.   It carries my workboots, a warm pair of socks, a t-shirt, some fleece leggings and a Banff sweatshirt that I bought in, well…Banff.    I unpacked the mittens and the scarf and tucked it back in the corner.    Hope I don't regret that.
It did get me thinking about a summer kit though.     It's pink…very pink.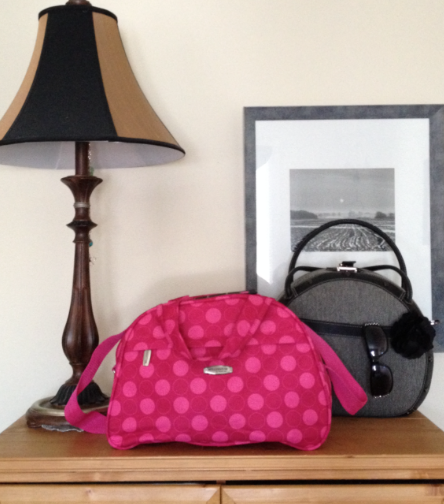 When I packed it, I'll admit, I packed it like a girl.    As in, if my car breaks down, please let it be in front of a three, four or gasp…five star hotel.   🙂   Nothing in this bag will help me fix my car.    Trust me, for my safety, and that of all others on the road, that's a really good thing.  They make CAA memberships for people just like me.  
The things in my car that I do keep handy are:
Kleenex

Hand wipes

Bottle of water or two

Lip balm

Cell phone charger

Hand cream/nail file (on the passenger side of course)

Coffee card
I really don't need much more than that anyway.    
Sending you love love love…
Shirly
P.S.  Your mini mission (YMM):   Clean out your trunk, check your car kit and season up!!!