It's been almost 365 days since I started Trim Healthy Mama.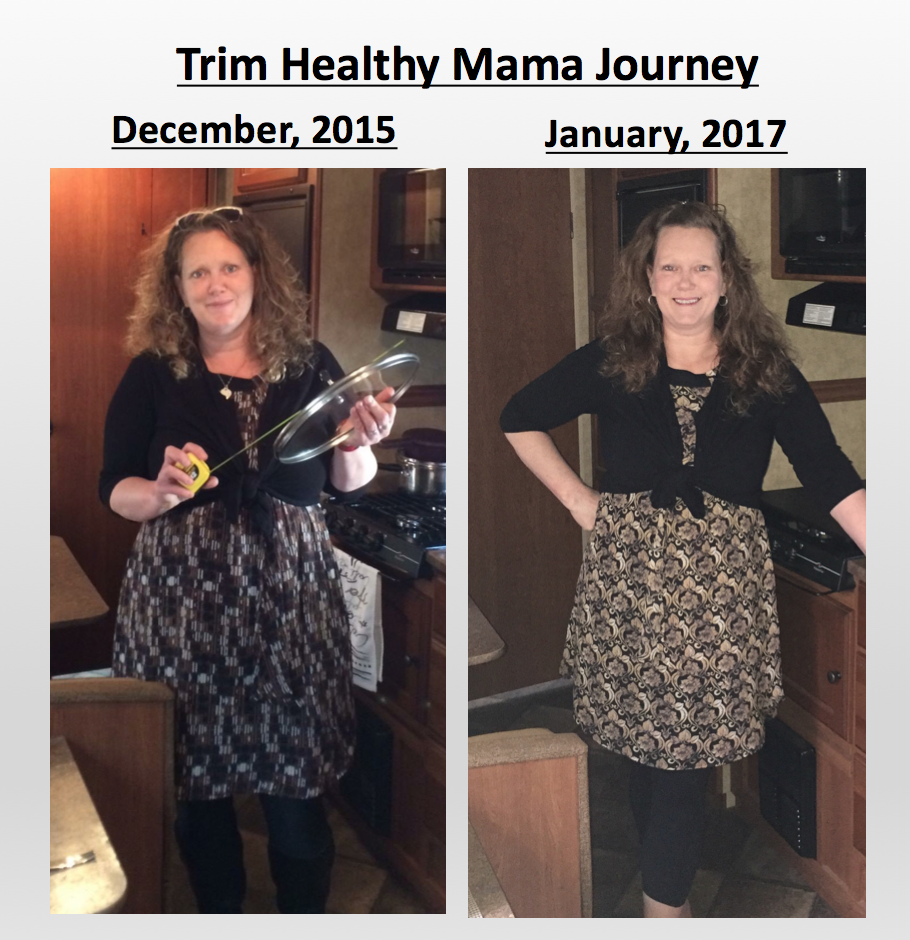 I could probably post the before/after and sign off with "love Irene" right now and be done with it.   But wait!  There's SO more going on behind the scenes that you CANT see in the pictures!

Sure, when I started, my weight was the only thing on my mind,   I was as skeptical as you likely are right now.  For years, I had wandered in and out of almost everything out there.   I've counted points for a lifetime and then some!   But once those first 30 pounds came off, my focus has been less on the "T" and whole lot more on the "H"!
The biggest thing for me is that my blood pressure is down.  WAAAAY down!
Missed that POST?  Have a read!   
I started BP medication after a short hospital stay with a reading of 220/180 back in 2014.  That's not a typo people!   The best part is, I didn't get that number down by eating celery and low-fat everything either!   I ate cake for breakfast, steak and hamburgers, muffins and cheesecake!
I watch two things like a crazy mama.  Salt and SUGAR.  I rarely cook with salt and I've completely detoxed from sugar.  Those two things, and some insight about the way to combine/separate fats and carbs and that's it.   Simple.
So, never mind the number on the scale….if that had been the only goal, I would have quit by now. I've been watching the same few pounds for over 6 months now.  Up and down…up and down.   It doesn't keep me up at night.    Why?   Because:
My blood pressure is lower
ZERO migraines
That haze (that I didn't know I had) has lifted
I sleep better
I have WAY more energy
I eat without counting, measuring or weighing
I'm wearing sizes that I haven't worn in 20 years
I bought two bathing suits this year because I couldn't decide on just one.  Yes.  Really!
I'm starting to buy shoes a size smaller than a year ago (yup, a surprise to me too)
Ok.  I said simple.  Honestly, there's a steep learning curve but press on and you will level out soon enough I promise!  Buy the book, get a notebook, then read it into the night like many of us did.   Join the facebook support groups to have your questions addressed at all hours of the day and night from women all over the world.    Sift through millions of great recipes and listen to the trim and healthy stories that will warm you from the inside out.    Victory after victory!    You won't regret the day that you started THM for yourself.   I only wish I started sooner.
Sending great love always (to my dear sister who spent time learning it first so she could teach us all).   Now excuse me as a celebrate a year of THM.  With cake!