So you didn't ask, but here it is!    Our Ultimate RV Kitchen checklist!
4 large unbreakable plates
4 medium unbreakable plates
4 small unbreakable plates
Paper plates and napkins
2 large glass bowls with lids
2 small glass mixing bowls
4 unbreakable coffee mugs for guests
Paper plates and napkins
Extra stuff we didn't really need but have in the event there is…well, an event.   I used a little gift basket I had received, then added a little cardboard divider to protect the glass during transport.
10 beautiful old red wine glasses
Four adorable shot glasses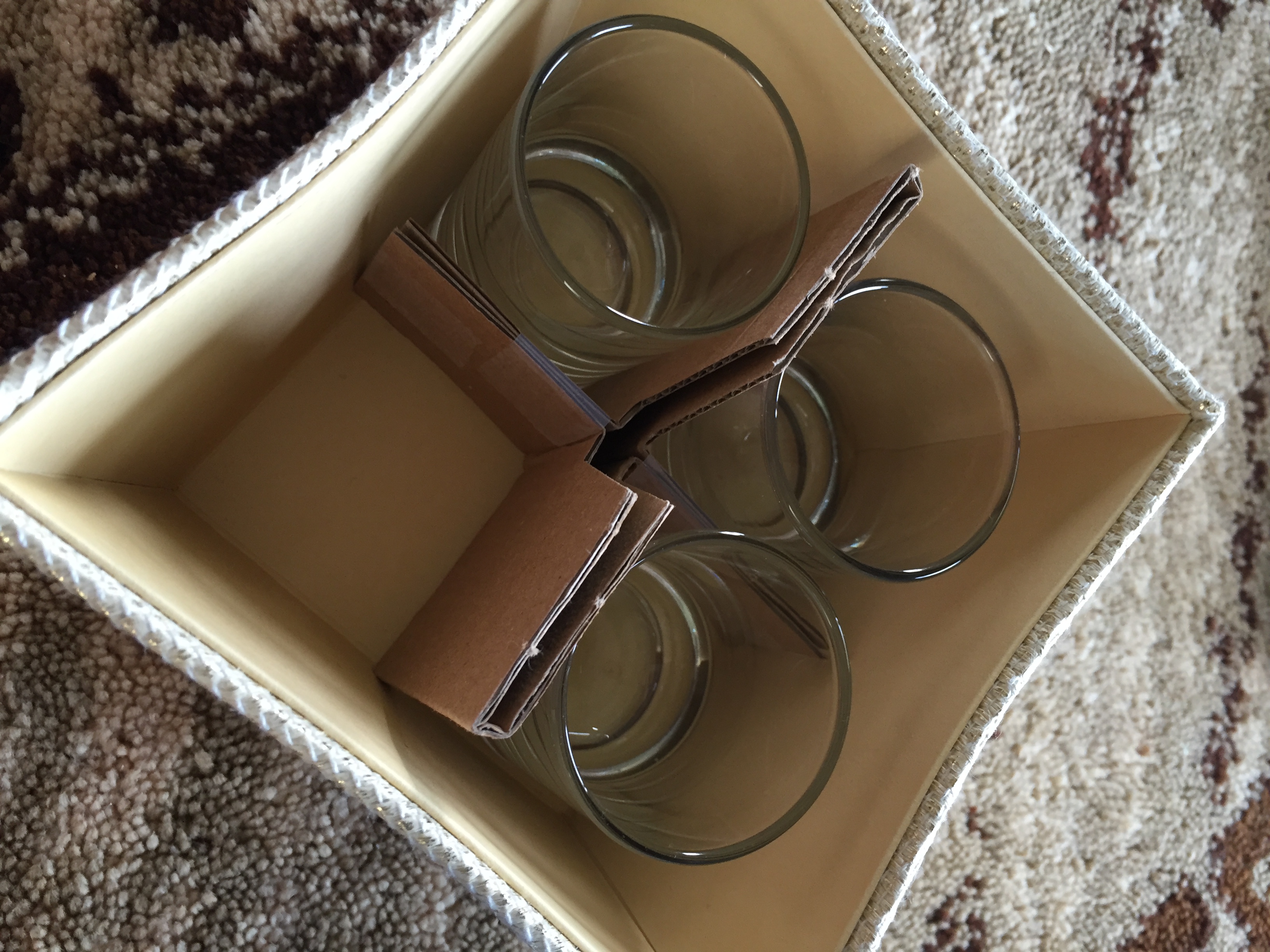 I bought the clear kitchen sorters for our mugs and things, then lined them with the rubber matting so they didn't slide around while we travelled.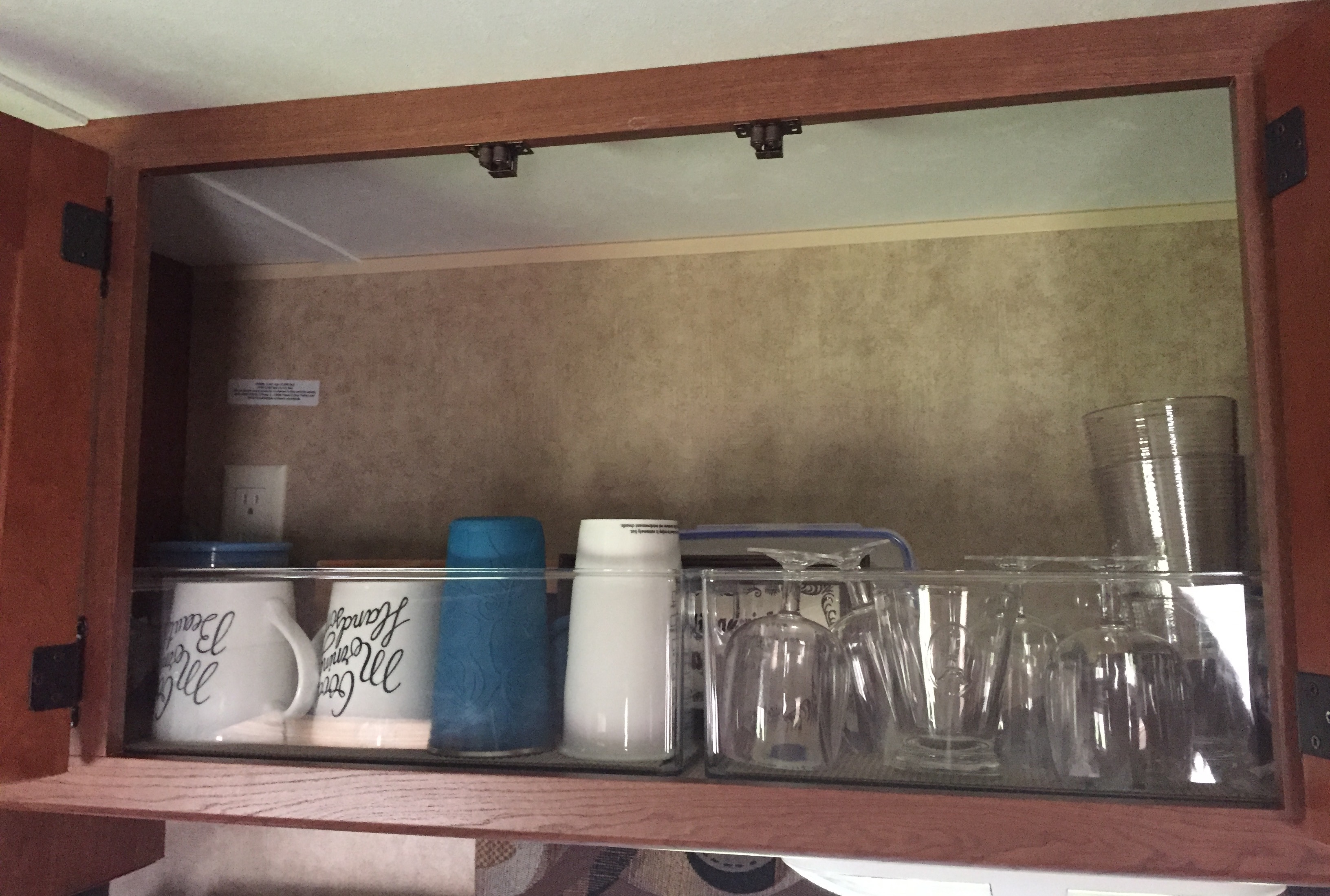 2 REAL mugs for coffee
2 travel mugs
4 unbreakable wine glasses
2 small glass juice glasses (I store them between my plastic ones so they don't rattle and break during transport).
2 large unbreakable glasses
2 unbreakable (freezable) beer mugs
The Cutlery Drawer
For the most part, we had a lot of the stuff from camping days gone by.   We decided to celebrate the purchase of said trailer with shiny new cutlery!     Don't tell anyone but this drawer might be my fav!   🙂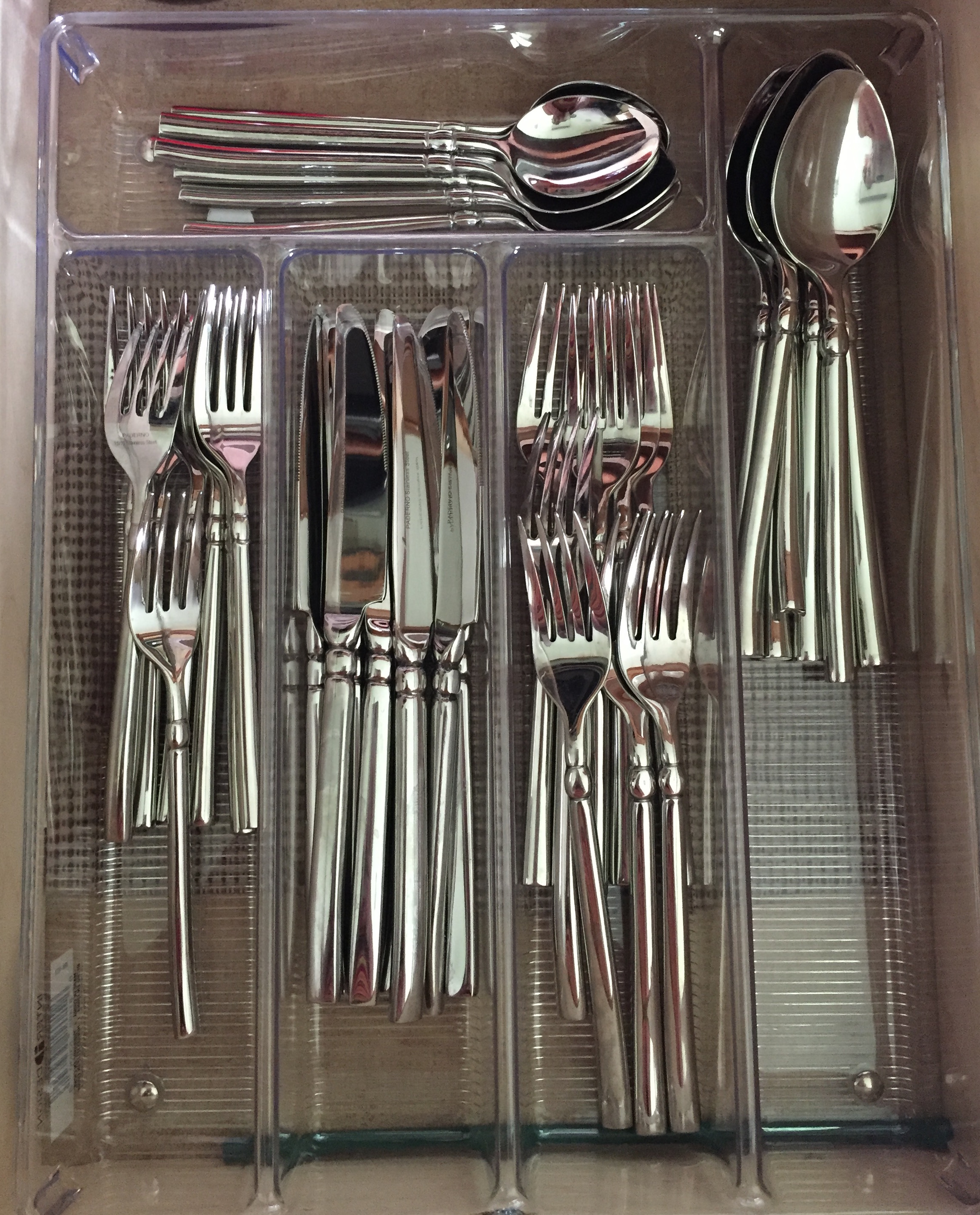 Drawer 2 – Utensil Drawer
Spatula (we have three, two metal, one plastic)
Can opener
Measuring cups and spoons
Knives…I have WAY too many….
Salad tongs
Kabob sticks
Wooden spoon
Really old awesome (extension) marshmallow / hot dog sticks
Tongs
Silicone brush for sauces
Wire whisk
Bottle opener
Drawer 3 – The "other" drawer
Wire rack (we use this at Thanksgiving only…so I tucked it at the bottom)
Tablecloth for the picnic table
BBQ starters (leftover, we don't actually need it with our current BBQ)
A trivet
Tea towels
Oven mitts (a thanksgiving necessity when turning the turkey over in the pit)
Reusable shopping bag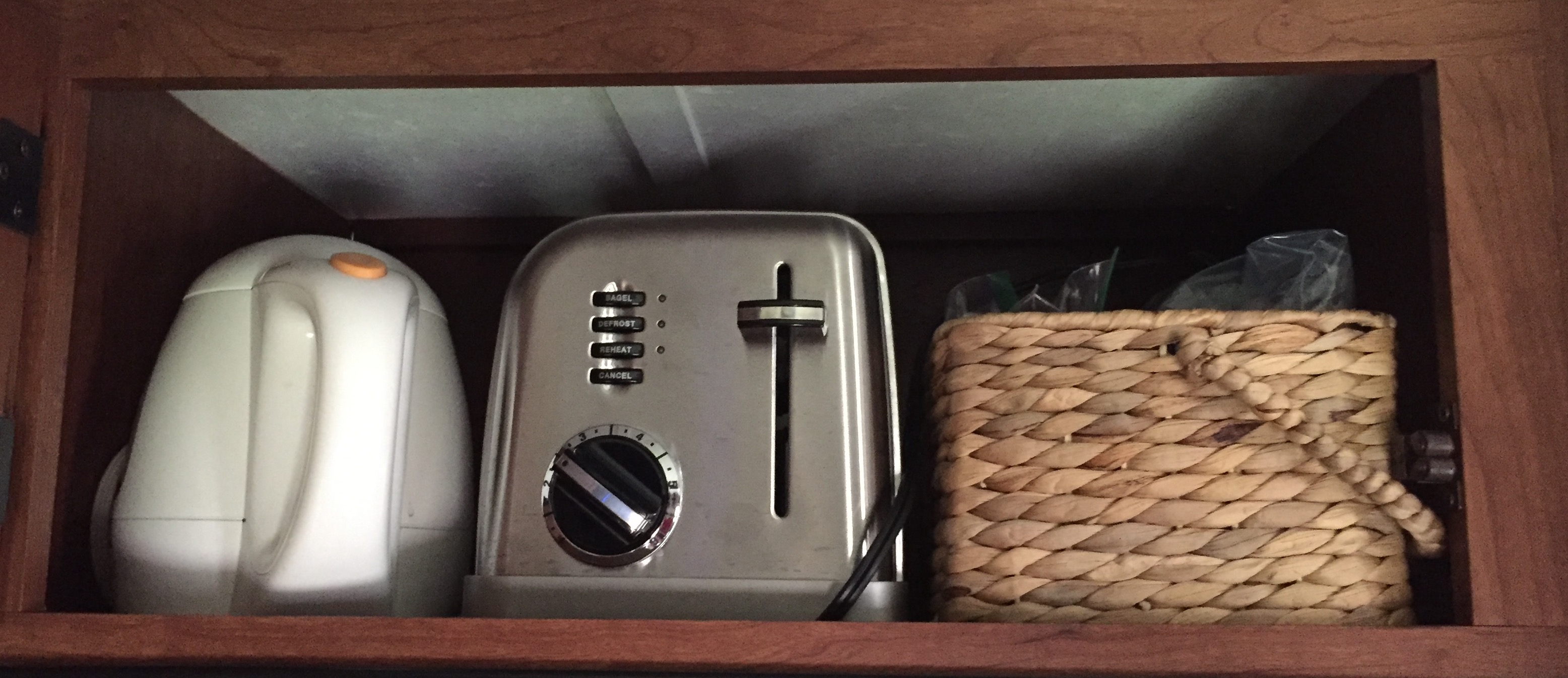 This cupboard is easy.  Kettle, Toaster, Coffee & Tea.  That's it!
COFFEEEEEEE…..
Our counter, for the most part, looks like this while we're set up and parked.    Coffee is priority one. We've had two of the grind and brew Crisinart coffee makers so far and we wore the first one out!   We saved the grinder, basket and filter of the first one so that we can prep two pots for the following morning.    There is NO grinding of coffee at 5:30 am.
Coffee pot
Thermos
Water jug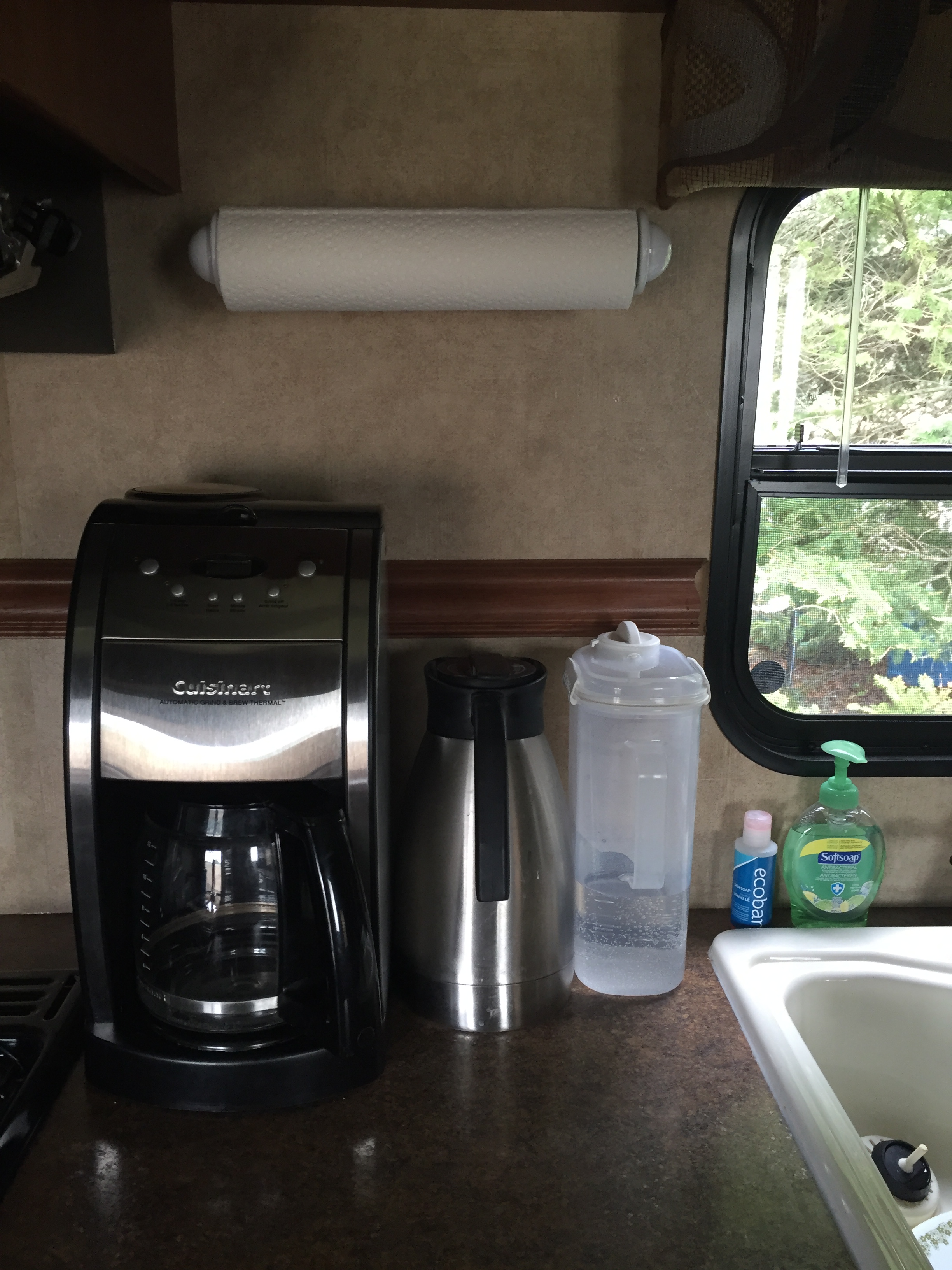 Under the sink storage houses:
Cutting boards x 2
Griddle for the BBQ
2 large unbreakable mixing bowls
1 large strainer
My adorable insulated picnic basket
A plastic storage bin including:
Box of small ziplocks
Box of large ziplocks
Small garbage bags (fits the kitchen and bathroom cans)
Tin Foil
Plastic Wrap
Cleaning wipes
Cooking Storage for:
Sauce Pan
Cast Iron frying pan/scrubbie
Microwavable cooker (with lid)
Frying pan with glass lid
Don't forget:
Prior to departure – Don't forget to load the BBQ!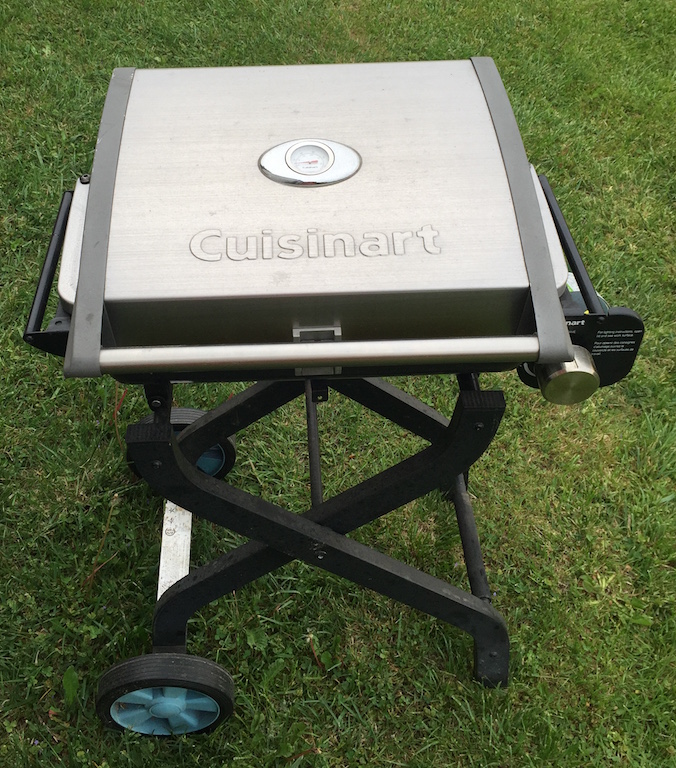 Happy packing and safe travels!
Love always,