Without a good nights sleep.  Forget it.
The FIRST thing we did was ditch the mattress.    We actually had a beautiful queen size pillow top mattress when we downsized from a three bedroom house to an apartment.   So, trailer mattress out, full queen size matress in!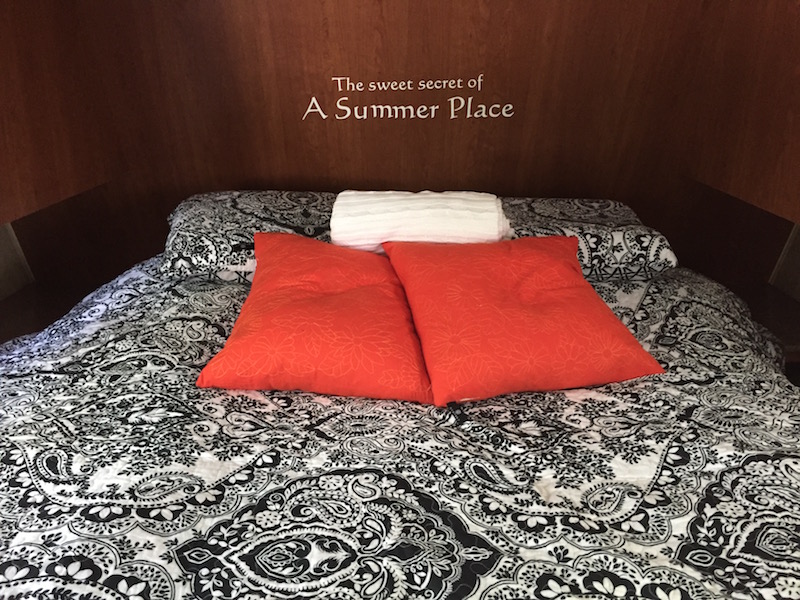 We had this king coverlet as well as a small matching throw.     Little did we know at the time how great that would be!    Roxy loves to lie on the bed so we can pull off the throw, shake it off and voila.  Bed is sans sand!
Two sheet sets, both grey (see where I'm going here), four pillows and two throw pillows as we already had them.    They're nice to tuck behind your back as you watch a movie.   They do inevitably land on the floor by morning.
Roxy has her own bed that we tuck away during the day.    She's happy to hop up between us once we start to wake.   She's so adorable …. how on earth could you say no.
The hidden gem is the little trap door that allows us to heave our laundry into the front storage compartment.     Once it's time to head for home, the basket goes out….straight to the laundry!
There is additional hidden storage under the bed for things you don't need to access often.  We tuck our cold weather gear, warm blankets, flannel sheets as well as our rain gear in this handy little compartment.
Lastly, we have iPad and iPhone chargers on both sides of the bed and once we've parked we have battery operated candles for each side.
So, Our RV Bedroom Checklist includes:
Mattress that allows for a good nights rest
Grey sheets and pillow cases (summer)
Grey sheet and pillow cases (fall)
Pillows x 4
Throw x 2
Blanket for comfort  🙂
Chargers
Battery operated candles
Happy packing and safe travels!
Love always,