Call me crazy, but this part of the new RVing experience makes me the happiest 3am'r ever.   After YEARS of camping in a tent, then a tent trailer, not having to stumble out in the dark to find the comfort station is a true joy.
RV/marine toilet paper.    Can't use the lovely stuff from home!!
Holding Tank Treatment tabs
You need a sewer line (the one that came with the trailer was ok, but it wasn't going to last based on reviews).  We bought this one after much research:   https://www.amazon.ca/Camco-39761-X-15-Feet-Swivel-Fittings/dp/B002OUMVWY
Disposable gloves
Hand sanitizer and wipes
Washable bin with a lid for said used sewer line.    We have a little compartment at the back of the trailer that holds only the sewer line, disposable wipes and gloves.
You'll need to Youtube YOUR trailer model instructions on how to pump and dump!  It's actually pretty easy!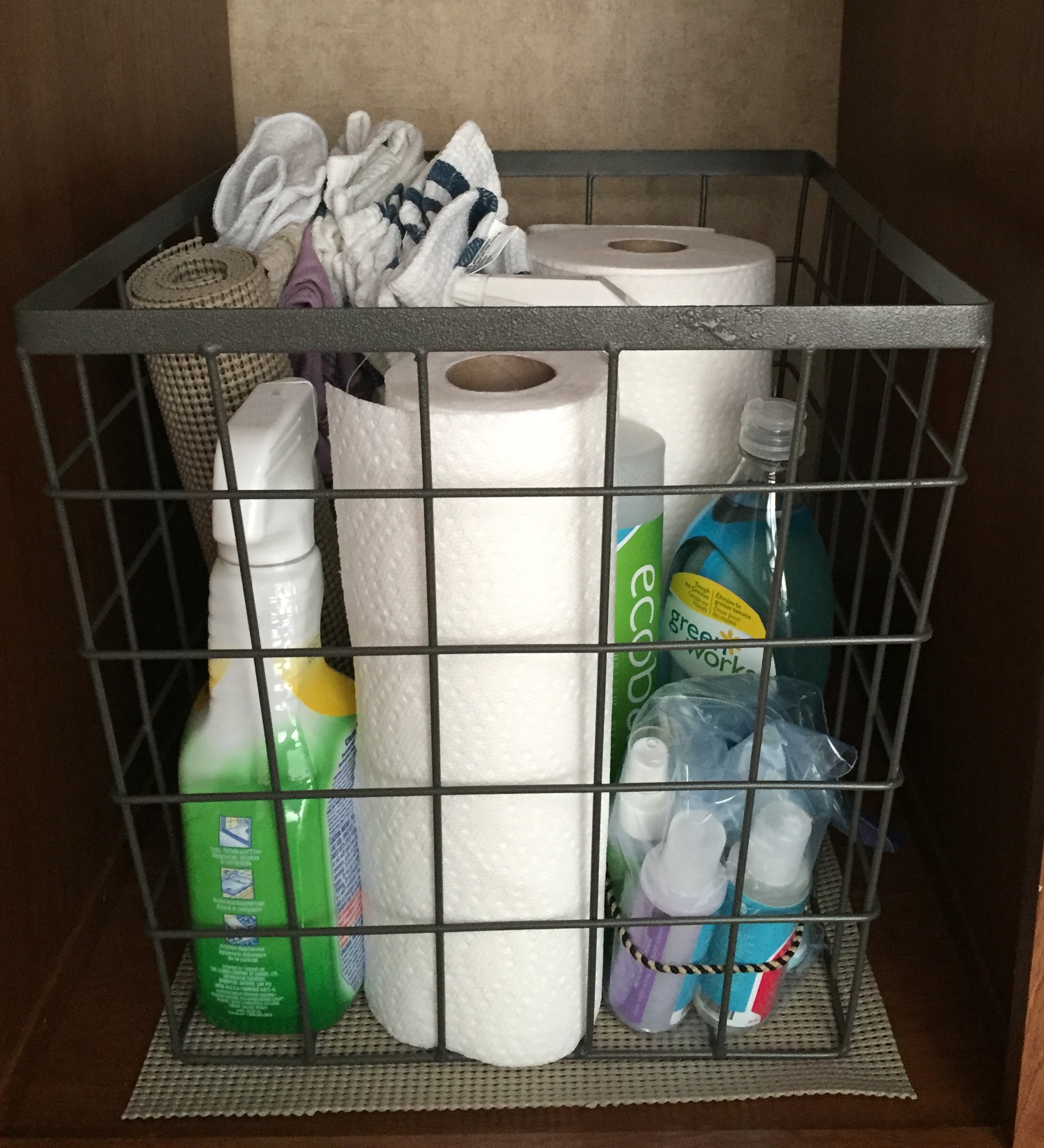 Cleaning Supplies:
I love camping, but I still love to tidy up, I can't help myself.    I have a basket of goodies to do that very thing.
Paper towel
Kleenex
Wet wipes
Dish soap
Bleach spray
All purpose cleaner
Old dish towels/rags
Boom and dustpan
The Linen Closet:
OK.  I'm particular.    Along with our shiny new cutlery (see last post), we also bought new towels.   Grey towels to be specific.    I have green and yellow towels in the house, so as soon as I see these in the laundry, I know they belong back in the trailer.     Washed and back in the "take this back to the trailer bucket".
2 bath towels
2 hand towels
2 face cloths
2 beach towels
My OCD Baskets:
These are brilliant!   Three shelves that I could stack full of product.    I overpacked.  🙂
Bug Spray
Sunscreen
Tea Tree Oil
Toothbrush
Toothpaste
Body Wash
Shampoo
Conditioner
Face cleanser
Moisturizer
Hand cream
Q-tips
Deodorant
Shave kit
Sanitary supplies
Hand sanitizer
Tide packets
Medicine Cabinet:
Mouthwash
Tylenol
Hand soap
Wet wipes
Kleenex
Bathroom Vent Cover: 
We purchased a vent cover for the bathroom fan.   BEST.  IDEA.  EVER.    You can have a shower while it's raining….without getting wet…well, without the floor getting wet!
Trash Can:
When buying a trash can for the bath, try and keep them the same size as the kitchen.   Same garbage bags, less fuss!  Just sayin!
Bath Mat:
Don't buy a pretty yellow bathmat.    Three washes I tell you.   It's still in the trailer, but I'm only going to lay it on the floor when we're having a shower.   It was a weird shade of sand after only a few days.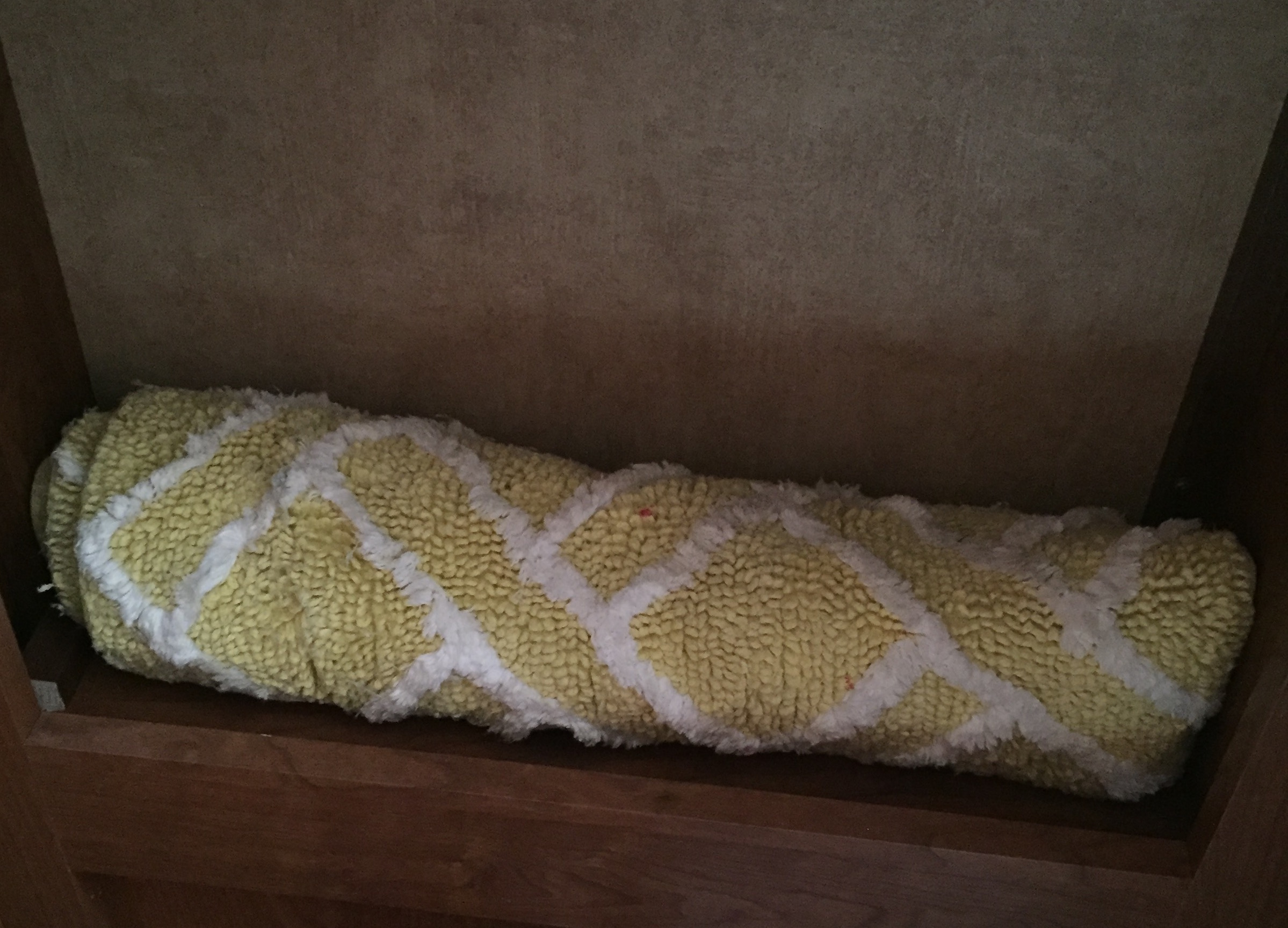 First Aid Kit:
We likely have sufficient supplies for a major catastrophy.   My first aid training is pretty rusty and anything more than a band-aid and I am OUT!    As in passed out!
Happy packing and safe travels!
Love always,